The 2021 Archaeology Week Youth Poster Design Contest was held to raise awareness among youth about preserving and sharing the history of Hawai'i. All Hawai'i students through grade 12 and youth under 19 years of age were invited to create a poster that captures "Preserving and Sharing the History of Hawai'i through Archaeology". This year's contest drew 18 entries from students across the state.
During Archaeology Week we will announce one finalist of this year's contest per day with the winning entry announced on October 2nd during the Virtual Annual Conference.
First place is awarded to the keiki of the Razon-Olds 'ohana of Ewa for this winning entry. The colorful poster features their favorite kinds of archaeological sites including stacked basalt terraces and petroglyphs like the ones they frequently visit in Nu'uanu and Waipi'o. The Razon-Olds keiki also shared their favorite story about where aloha comes from and how this story is told through the archaeological sites they love most.
"Our favorite story our mom tells us is about where Aloha comes from. We love to go on historical hikes and find stacked basalt walls, especially when we can see the terraces. That meant the area was a community space used for food and gathering. People ate what they needed and replanted for the next person to come. That was true aloha. Use what you need and prepare for the next person even if you don't know them. That's real Aloha."
Second place is awarded to Sophia Yates of Kalaheo for this collage with fun facts.
Third place winner Colton H. of Wailuku submitted this entry of a loko i'a or fishpond.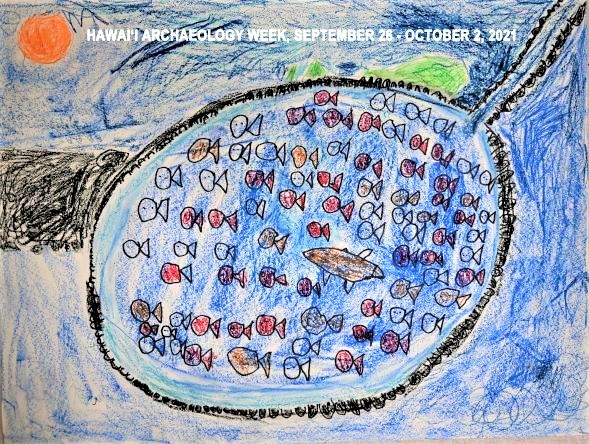 Fourth place is awarded to Hekiliokahōkūao Fujiwara of Lahaina for this poster entry.
Fifth place is awarded to Zaira of Makawao who submitted this poster design.