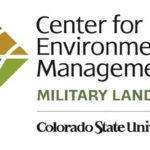 Website Center for Environmental Management of Military Lands
An Architectural Historian position is available with the Center for Environmental Management of Military Lands (CEMML) to provide on-site program support for the Cultural Resources Management Program, Environmental Division in the Directorate of Public Works, U.S. Army Garrison, Hawaii (USAG-HI). This position will be duty-stationed at Schofield Barracks on the Island of Oahu, Hawaii.
Primary responsibilities include conducting assessment of effects to built-environment resources pursuant to NHPA Section 106; historical and archival research; inventory and National Register of Historic Places (NRHP) evaluations of architectural and engineered resources to satisfy USAG-HI's obligations under Section 110 of the NHPA; review and/or prepare historic resources survey reports, NRHP eligibility evaluations, State historic building inventory forms, and Historic American Buildings Survey/Historic American Engineering Record (HABS/HAER) documentation; negotiate, develop, and facilitate creative mitigation; and develop historic preservation treatment plans.
Apply no later than March 20, 2023 for full consideration (posting closes on 4/10/2023). Prospective candidates should apply online at https://jobs.colostate.edu/postings/122510.